Fairy Lights
When we organize our events, we like to add a little festive sparkle to everything, from our tables to our clothes, to our venue's exterior. String lights add that touch of whimsy that gets everyone feeling festive and glamourous. There are plenty of light schemes, but do not skimp on using lights for any personal decorating idea. It is easy to incorporate lights into your event draped over wires, trees, walls or any part of the venue. Adding fairy light surfaces like roofs and walls will highlight any special area.
Fairy Lights Table Cover
The Fairy Lights Table cover is an elegant decor for a perfect romantic setting and ideal to make your table a centerpiece. Feel free to contact us for a wide range of suggestions, or even proposing your own ideas.!
Trees Highlighted with Fairy Lights
Natural or planted trees are exotic and glamourous by themselves. During the night though we like to give an extra touch of glam and sparkle.
Depending on the size of the tree and option to decorate just the trunk or the whole area including branches.
Special constructions upon request
Our team of engineers and electricians is ready to design and construct any crazy idea that will come through your mind.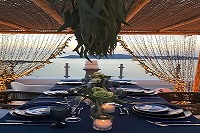 Let us create a unique background design based on your vision and sparkle up your reception, cocktail or dining area. We can decorate pergolas and ceilings and any area you can imagine!
String Lights
Create a romantic atmosphere with rows of string lights with Edison bulbs!

Each row of String Lights is 15 meters long (extendable) with 18 "Sylvania Retro Vintage Edison bulbs ST64"

The bulbs are dimmable, and a professional Dimmer-panel is provided, to adjust the amount of light in the venue according to your preference in dinner and cocktail areas!

Every venue presents different possibilities and difficulties. Depending on the area you would like us to cover we hang our string lights to create a symmetric and pleasant string light sky. In case that the venue does not provide a structure to hang our string light rows, we can support the setup with truss towers covered with white or black flameproof cloth!

Candle Walkways

We can light every area and we mean it! Creating walkways with artificial or real candles is just another romantic note in your cocktail reception!

Gallery

Your browser does not support the video tag.

×